VDCA 2021 Membership Application or Renewal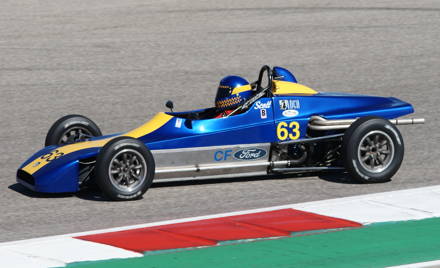 VDCA
Friday, Jan 1 — Wednesday, Dec 22, 2021
VDCA Intergalactic Headquarters
,
West Palm Beach

,

FL
Registration closed November 29, 2021 11:59 PM at 2021-11-29T20:59:00-0800 Registration ends November 29, 2021 11:59 PM at 2021-11-29T20:59:00-0800 Registration opens December 22, 2020 12:00 AM at 2020-12-21T21:00:00-0800 Registration runs from December 22, 2020 12:00 AM to November 29, 2021 11:59 PM
As a not-for-profit organization, VDCA aims to promote, preserve and encourage the use of historic racing cars in as close to their original state as possible.  VDCA intends to create an environment where the "pleasure of taking part" must exceed the desire to "win at all costs."  We want to race in an environment where there is a spirit of safety and an atmosphere of friendly competition, a place for well prepared cars which are faithful to their period of construction and competition. We seek to re-live the lost era in motorsports when sport and sportsmanship were paramount.  Authenticity and appearance, as well as safety of the cars is much more important than their speed potential.  It is essential that all competitors know and respect the limits of their cars and themselves.
VDCA offers vintage racers and our current and recently expired members the convenience of applying or renewing on-line here at MotorsportReg and paying by credit card. If you prefer to mail us an application and check, you do not need to use this program.  

Creating an account in MotorsportReg.com, if you do not already have one, is easy and free.  Please remember, if you change your e-mail address, log in to MSR with the old user ID and password and update your e-mail address in your account.  Do not just create a new account:  you will lose all your racing history in MSR.  
Your VDCA Board Members have set membership dues for 2021 at $75.  Membership will be valid for one calendar year.  Medicals are valid for two years from when your Dr. approves it. Copies of new medicals, if applicable, may be submitted by several means:
scanned jpeg, or pdf file emailed to our Registrar at VDCAChristine@gmail.com  (please be sure the photo/copy is legible)
If you are sending a check, then mail a copy to our home office at 13505 Running Water Road, West Palm Beach, FL 33418-7933
New member applicants are subject to approval by the Race Director and must submit documentation of current competition credentials and a racing medical.  For your convenience, here is a link to our membership application form:  VDCA Membership Application Form.  Mail or email to the addresses listed above.